Order Bulk Polystyrene Nationally Online In Seconds
The Easy Way To Order Bulk Polystyrene Nationally In South Africa
Custom-Cut Sheets & Blocks
Looking for special custom-cut sheets or blocks?

---
Assuming that our standard sheets & block sizes don't work for you we can certainly assist you with any custom-cut sheet or block sizes you need! Visit our special-cut shapes section if you are not looking for sheets or blocks.
Custom-Cut Sheet & Block Considerations:
---
There are some important things to consider when ordering custom-cut sheets & blocks. Here they are:
Sheet & Block Size Constraints:
---
Your sheet or block sizes need to fit within these dimensional parameters:
The maximum sheet or block length is 5000mm
The maximum sheet or block width is 1200mm
The maximum block height is 600mm
Costs & Wastage:
---
Special custom- cut sizes cost more than standard sheet & blocks sizes because it takes longer to cut and there is always wastage.
Longer Lead Time:
---
Lead times for custom-cut sheets & blocks is often longer than standard sizes.
Cutting Tolerances:
---
We can cut to +/- 2mm tolerance.
Have You Considered Cutting These Yourself?
---
Cutting polystyrene is pretty easy. A sharp knife or hacksaw blade does the job.
This could save you time & money!
---
Getting A Quote:
---
Obviously there are too many densities and size variations to publish prices online. You will have to to email us the following to get a quote:
Exact dimensions of the sheets or blocks you require.
Exact quantities per sheet size you require.
The density of the sheets you require.
Your exact project location (so we can determine which factory is closest and what the delivery will cost will be)
---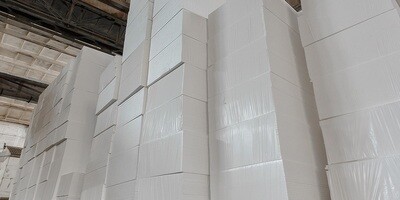 Polystyrene Sheets & Blocks (PolyBoards)
Polystyrene Sheets & Blocks (PolyBoards)
Supplied Nationally In South Africa
Polystyrene Product Company
Your Trusted Specialists In Bulk Polystyrene For Concrete Floor Insulation, Cavity Wall Insulation, Concrete Roof Insulation, Thermal Ceilings & Void-Former Applications
Recently Supplied Projects
Cape Town Convention Center Extension Concrete Roof Insulation Project
1400m2 of 120mm Extra-High Density Concrete Roof Insulation (PolyRoof Insulation) Laid On Top Of Torch-On Waterproofing With Paving Overlay
Nelson Mandela Children's Hospital Raised Slab Project
3000m2 of 50mm Extra-High Density Concrete PolyVoid Fillers To Raise An Existing Concrete Slab By 1m. Extra-High Density Polystyrene Has Incredible Compressive Strength Properties.
Let's Explore Your Polystyrene Building Requirements Together!