Structural Fill - Raising Existing Slabs
Need Polystyrene Fill or Structural Polystyrene to raise an existing concrete slab?
---
PolyVoids are extensively used as structural fill or to raise existing concrete slabs in South Africa. PolyVoids sheets or blocks are placed directly on the existing concrete slab and then a new slab is cast on top of the polystyrene layer.
This is our retail portal. Contractors & Bulk Buyers should request access to our discounted Contractor & Bulk Buyer Portal.

Real Life Example:
In this picture, they are using our Highest Density PolyVoid blocks and sheets to raise an existing slab by 1m at the Nelson Mandela's Children Hospital in Johannesburg.
Engineering Design Considerations:
---
We don't design concrete slabs so you will have to consult with your structural engineer on what density PolyVoids will be required.
Low Density PolyVoids are generally used where the polystyrene layer is not going to carry the final weigh of the new concrete slab. The polystyrene in this case is just present to fill a void and carry the wight of the slab until the slab has cured.
Our High Density & Extra High Density PolyVoids are generally required when the polystyrene layer is going to carry the full weight of the new concrete slab and live loads after the slab has been cast.
The new concrete slab should be structurally reinforced and a mimumum of 100mm thick.
Cost Considerations:
---
The higher the density, the higher the cost of the PolyVoids.
Standard sheet & block sizes are more cost effective.
Avoid special cut blocks if possible. Wastage can increase costs significantly.
Installation Considerations:
---
Thinner sheets packed on top of each other are easier to handle, cut and pack on site.
PolyVoids are easily cut with a knife or hacksaw blade.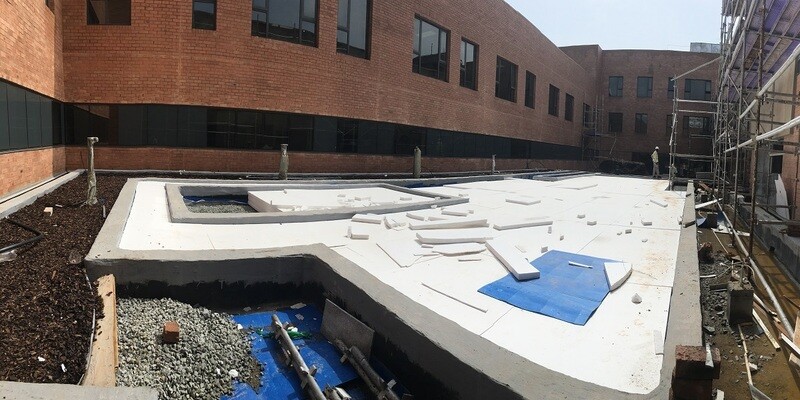 PolyVoids - Void Formers & Structural Fill
PolyVoids - Void Formers & Structural Fill
Order online before our special ends!
Our Recent Notable Polystyrene Related Projects
Cape Town Convention Center Extension Concrete Roof Insulation Project
1400m2 of 120mm Extra-High Density Concrete Roof Insulation (PolyRoof Insulation) Laid On Top Of Torch-On Waterproofing With Paving Overlay
Nelson Mandela Children's Hospital Raised Slab Project
3000m2 of 50mm Extra-High Density Concrete PolyVoid Fillers To Raise An Existing Concrete Slab By 1m. Extra-High Density Polystyrene Has Incredible Compressive Strength Properties.
Polystyrene Product Company
When You Need A Reliable National Supplier Of Polystyrene Sheets, Insulation, Thermal Ceilings, Void Formers & Decking Blocks In South Africa Or For Export!
​
We Love To Assist!